Here at Purple Mountain Music, we offer a full service recording and mixing
facility dedicated to the highest quality of reproduction and manipulation of audio
for music and motion picture release.
At the heart of the facility is a 4064 G+ Solid State Logic recording console with Total Recall and Ultimation moving fader automation. This remarkable console was formally in Studio A at Unique Recording Studios in New York City. There it was used to create countless hits and major motion picture soundtracks as well as to launch the careers of several of today's top mixers including Chris Lord-Alge and Tom Lord-Alge before being moved to Nashville by John Neil Martin and the Purple Mountain Music crew. Here, it continues as the centerpiece to creative and sonic excellence for a new generation of timeless music!
The console has been highly customized by top New York studio tech Dan Zellman (of David Bowie fame) and boasts a mix of original E-series Black EQs and G series EQs. Total Recall is possible of all parameters and channel settings. The console also has a modified custom center section, outputs and monitor routing. The legendary sound of this SSL has been used to record and mix countless numbers of # one hits, film soundtracks and Grammy/Oscar winning songs for some of the most admired and well known names in music.

The outboard racks host an arsenal of modern and vintage preamps, equalizers and compressors by Telefunken/TAD, API, Pultec, Tube Tech, AEA, RCA, Shadow Hills, Chandler Audio, Universal Audio Teletronix and more.

The main Purple Mountain Music Studio reverb "chamber" is an iconic EMT 140 plate from the original Record Plant Studios in New York City. This ambient magic of this infamous "EMT #4" reverb has been heard on thousands of historic and classic recordings including John Lennon's "Imagine" and "Dream Number 9" among others.

In addition to the SSL 4064 G+ console (nicknamed SLAM JAM by the Purple Mountain crew} there are several other noteworthy recording consoles at Purple Mountain Music Studios as well that help provide a wide and diverse pallet of sonic possibilities, They include a sidecar Neve 5302 Melbourn all discreet recording console with 33115 EQs. This desk was originally custom built for the BBC music studios in London and upon acquisition by John Neil Martin was further customized by original Neve designer Geoff Tanner for a one-of-a-kind sound like no other. The all tube RCA BN2A and Ampex 600 consoles round out the selection to cover anything from the most modern hi fidelity of tones to that infamous Sun Studio sound.

The studio is also equipped with a variety of vintage and modern tape machines including "Dr Mabuse", a 2" 24 track Studer MCH-820 multitrack recorder with Dolby SR formerly at Pixar Studios in Burbank and a Studer A-80 RC Mk II 1/2" master recorder from the legendary Sun Studios. In addition are 4 multicore Macintosh Computers with dedicated hardware controllers and loaded with the latest DAW software, plugins, immense sample libraries. These include recognizable names such as Avid, Ableton, Native Instruments, Spitfire, East West, Waves, Slate, Proppelerhead and many more.



---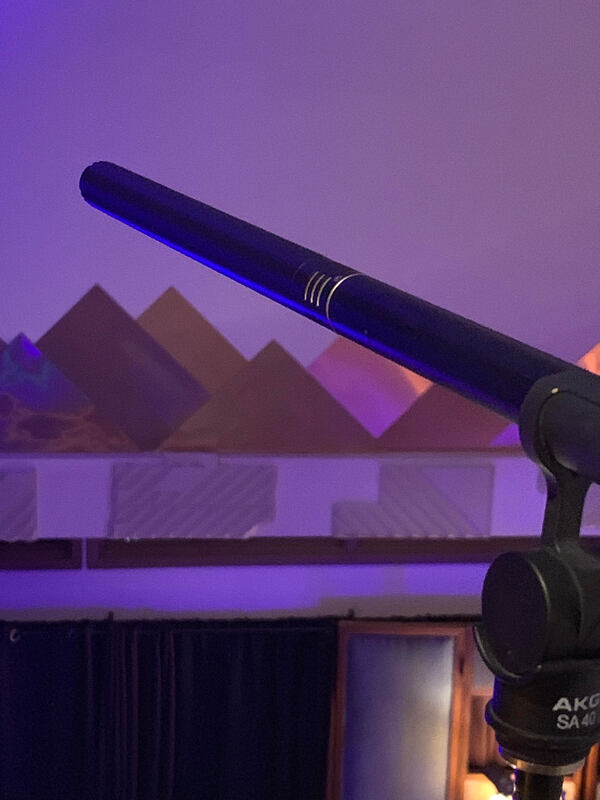 ​Our microphone collection is the gold standard offering original, excellently maintained classics including vintage Neumanns like the VF-14 U-47/48 and the M-49b. When looking for the classic smooth reach for one of our RCA ribbons such as a rare and beautifully kept 77-B or a matching pair of 74s. A one of a kind prototype by Cameron Labs brings a tone to the mountain that truly can be found nowhere else. A long list of other high end studio standards from AKG, Sennheiser, EV and more complete the list and provide a diverse collection to choose from.
The tracking rooms include an A main room with 40' curved ceilings and a high balcony for ambient microphones over 30' above the main floor.
The first floor of A houses a 1928 Baldwin concert grand piano, a full set of Ludwig orchestral drums and other instruments including a Hammond organ, a collection of Moog synthesizers and over 20 vintage and modern guitar amplifiers from the likes of Marshall, Mesa Boogie, Fender, Roland, Vox, Ampeg and others.
On the third floor of A, in a separate isolation room off the balcony, is a 1902 Estey Grand piano and a variety of acoustic guitars by Martin, Taylor and Gibson.
Under the microphone balcony resides a completely floated custom isolation booth for recording vocals, various acoustic instruments, sound design and A.D.R. etc. . .
​
A second B tracking room is connected to the main room. The lounge area and back patio, complete with fire pits, ties it all together and offer a perfect escape to work on arrangements, write a new song or simply enjoy the serenity provided by the forest and wildlife that surrounds the studio. Deer, fox and eagles are common sights here as the studio is close to the shore of a major lake just outside of metro Nashville. Gear-heads and tone-masters check out the gear list
HERE
.
---